For the community
The ATSA Everyday® Backpack is designed by Esk8 riders for Esk8 riders. We think you'll agree that this is the most comfortable and high-end skateboard backpack ever. We designed the ATSA to be your Everyday Carry in any situation. Bring it along whether you're meeting a client or road tripping on a weekend. You can live and work with it. The sleek design fits right in wherever you are and whatever you do. It's not just good looks. It has all the features you come to expect from premium backpacks, and more.
Any kind of skateboard
Dragging a (electric) skateboard around can be a huge struggle. We wanted to be able to take our boards anywhere without it ever becoming a unpleasant situation.
ATSA's skateboard carry system will work with most skateboards out there. We tested it with boards of different sizes, from regular, shortdeck and longboards to a wide range of electric boards. From a smaller Exway Wave, to midsize Boosted Boards, Evolve and Backfire, to heavy full-size boards such as Bioboards, Lacroix Prototipo and Kaly NYC 2.0. ATSA holds them all firm in place.
The ATSA backpack has clever storage solutions to make life easier for electric skateboard users: remote controller, charger, shades, water bottle, tripod, helmet (up to full-face!) and a selfie stick holder so you can film your rides hands-free from an awesome drone perspective. We even designed a reinforced area for removable battery packs or other delicate gear like a DSLR camera body. Both shoulderstraps contain a phone holder for quick access to your phone while riding. And we include two raincovers, one for your helmet and the other to keep your skateboard cleansafe and dry while traveling!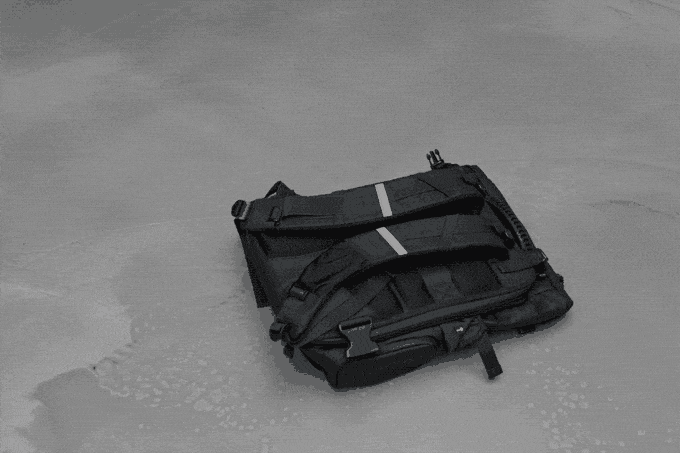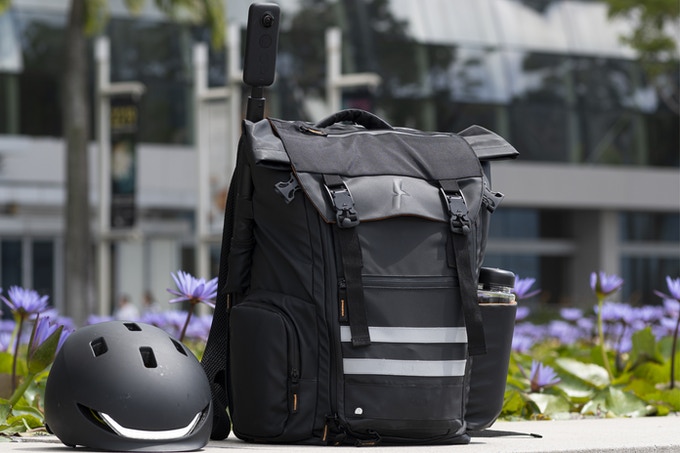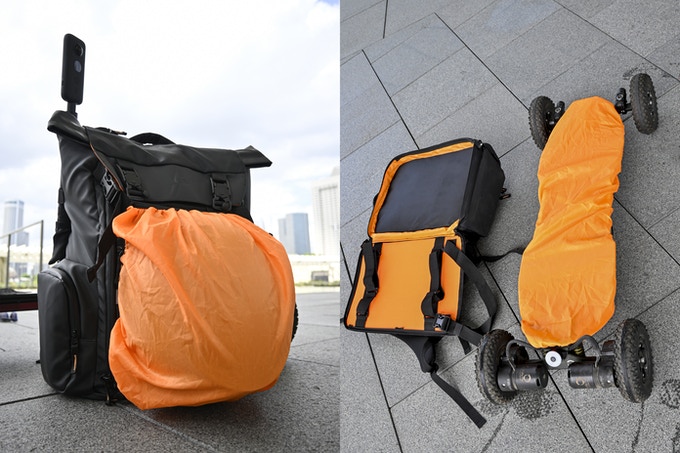 All-Weather and durability
The ATSA backpack has to be durable because of the heavy use it's expected to handle. We went with a light-weight but hardwearing tarpaulin fabric. The fabric's rubberised surface is strong, flexible and weatherproof. At the same time, it's comfortable for your shoulders. We applied an additional layer of hydrophobic spray on top of the fabric, adding a thin surface layer that repels water and dirt.
Unlike other Esk8 backpacks, ATSA is truely weatherproof. We use weather-resistant zippers to further limit water ingress. We don't call it waterproof because you can't go diving with it, but it will perform and keep your gear safe in heavy weather.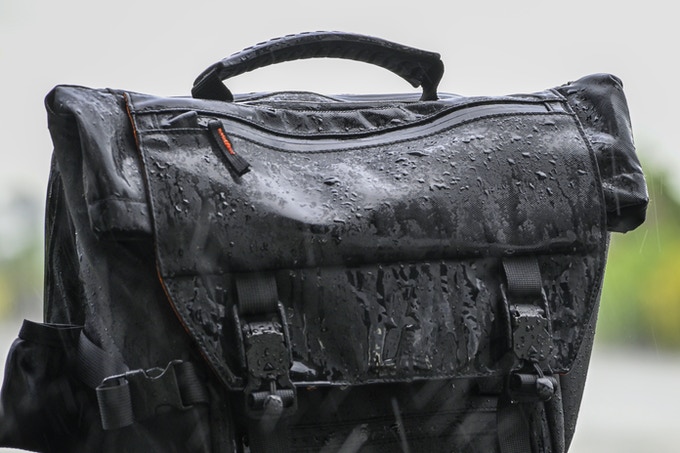 For everyday use
Carrying a skateboard comfortably is just one of the tasks. The ATSA is first and foremost a great everyday carry backpack. With pouches for everything you can think of. We are talking about cable management and storage solutions for all your tech and daily gear. Carry your laptop (up to 17"), tablet (up to 13"), cables, wallet, keys, change of clothes, keep your phone in the shoulderstrap and there is even an RFID-blocking compartment to protect against data theft.
We didn't settle for less
Our design is complex, each backpack is made up of more than 150 parts and fabric pieces. Every single one of our backpacks go through a stringent in-house QC and testing process before they get delivered to our customers.
We sourced our parts from all over the world and only the best made the cut. German magnetic clasp allows you to suspend and protect your equipment inside the laptop/tablet sleeve. Not to mention, adjustable chest straps, nylon buckles, Korean-made waterproof zippers and more.
We wanted to raise the bar, and we are confident we delivered.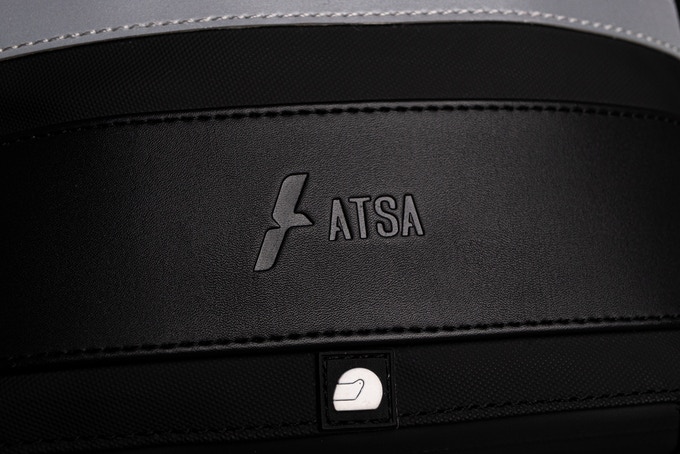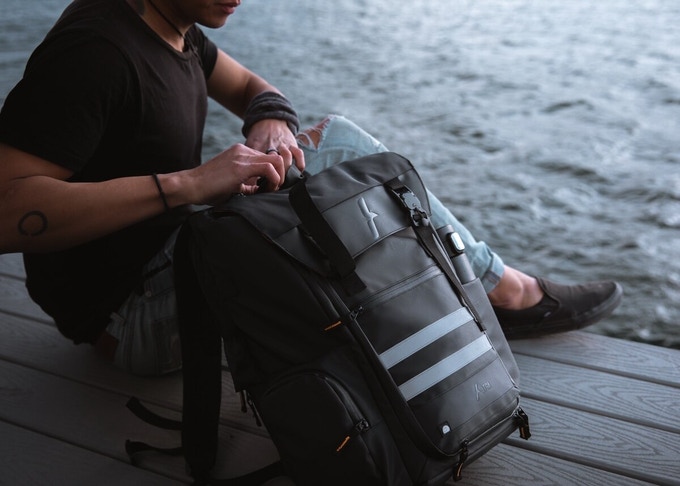 What are the dimensions of the ATSA backpack?
H45 cm W36 cm L22 cm
H17,7 inch W14,1 inch L8,6 inch
Weight 2 kilo 4.4 lb
How do i wash the ATSA?
If the bag becomes dirty it can easily be wiped down with a damp cloth. The buttery smooth surface of the tarpaulin material makes the Atsa backpack extremely weatherproof and helps prevent stains from showing on the bag.
Can the ATSA survive a fall?
We all know that with skating falling is inevitable. One of our testers fell while riding 30MPH and the backpack helped break the fall significantly. It is still usable and the material and buckle did not even break.
How many compartments are there?
In our scientific compartment counting department our team there found. 3 mesh pockets in the main compartment and 2 pockets a dozen of elastic bands for all your accessories. On the outside there are 3 zipper pockets and 1 pocket with magnetic closing. And on the back we have a RFID blocking pocket and the skateboard storage compartment.